License Requirements
07 May 2022

2 Minutes to read
License Requirements
Updated on 07 May 2022

2 Minutes to read
---
Overview
ReportWORQ must be used in accordance with the license agreement that you agreed to upon installation, and only by users who are covered by that license agreement. Please consult that licensing agreement and contact us if you have any technical or sales related questions.
There are two categories of ReportWORQ licensing:
A ReportWORQ Client License is required for each named user that is accessing the ReportWORQ Client Application for individual or shared installations. The ReportWORQ Server license is installed with the server. Anyone can access the server to run scheduled ReportWORQ jobs, either automated or manual.
ReportWORQ Free Utilities: This includes tools such as "Print Reports" and "Audit Report", which are provided free of charge to everyone but require free registration and a separate activation, even if you already have a paid ReportWORQ subscription.
License Activation
ReportWORQ requires a license key to be installed and activated. This can be performed in ReportWORQ Client by navigating to the Settings screen, or in ReportWORQ Server by launching Install License.bat from the installation directory. Enter the license key and your information in the form, then push the Activate button. Activation is performed over the internet and an activation of the software will be consumed and recorded for licensing purposes. Depending on the type of license purchased you may be limited to the number of active installations at any given time. To remove an activation simply release the license.

Manual Activation
If no internet connection is available then a manual activation must be performed. This is a 3 step process where a request code is obtained by the software via the clipboard which is then entered manually using the Manual Activation link on the https://QueBIT.com/download page from a machine that has an internet connection.
Step 1: Copy the Activation code to the clipboard.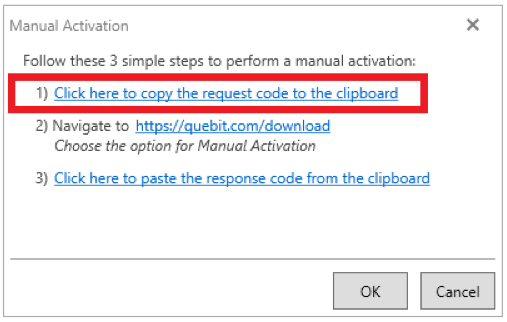 Step 2: Navigate to the Manual Activation web page from a machine with internet access using this URL: https://QueBIT.com/download.
Step 3: Enter the Activation Code and Copy the Response to ReportWORQ:
After activating the request code you must then copy the response code and return to the machine where ReportWORQ is installed. The Response code is provided back to ReportWORQ via the clipboard.
Paste the response code in ReportWORQ.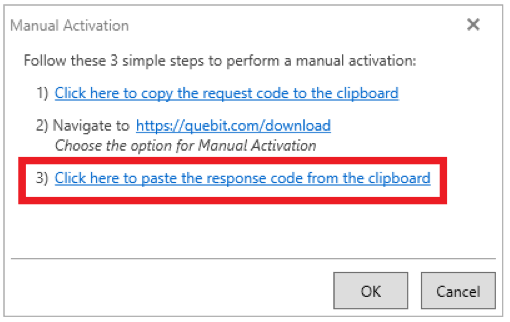 Any manual license activation is valid for 12 months or the expiration of your current license term, whichever comes first, and will need to be re-activated for continued use.
Free Utilities License
The process for activating the free utilities in ReportWORQ is similar to those needed to activate the full product subscription. To begin, launch the "Print Reports" or "Settings" option from the ReportWORQ ribbon in Excel.
If you are not a fully-licensed ReportWORQ user or if you have never registered these free tools before you will be prompted to request a free license key:
After entering your information and selecting "Request Key" or "Request Free Print Reports Key...", you will receive an email with a license key that you can enter into the same form. Click "Activate" to activate the license after which you will be able to start using all of the free ReportWORQ utilities!
NOTE: If you have no internet connection to perform the activation, please click the "Activate Manually..." link and follow the "Manual Activation" instructions above.
BoostWORQ License
A Print Reports license, by default, does not grant access to BoostWORQ Excel Tools. If you wish to enable and use these tools, please contact us for more information about enabling that feature, which is a paid option that can be easily added to any Print Reports license key. Users with a full ReportWORQ license automatically have access to all Excel free Print Reports utilities as well as all BoostWORQ utilities.
---
Was this article helpful?
---
What's Next