Slack
07 May 2022

1 Minute to read
Slack
Updated on 07 May 2022

1 Minute to read
---
Overview
ReportWORQ has the option to post files to Slack Channels and direct user messages through the #channel and the @person handles. To enable Slack distribution, first Create an App in your slack instance and add OAuth permissions for chat:write and files:write. After installing the App, an OAuth token will become available, which should then be copied to the ReportWORQ OAuth Access Token setting.
Usage
Recipients
A ReportWORQ Recipient's Slack Channel field can be configured with an existing channel or a Slack user's handle. This will be used during Job execution if Slack is selected as a Job Destination.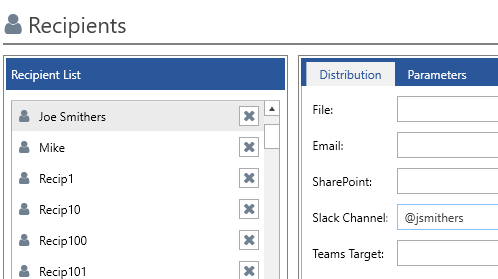 OR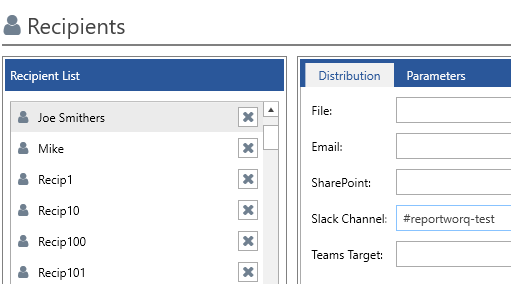 Job
To use Slack as a Destination, it needs to be selected as an output location on the Job Screen.

After making the above selection, the Slack Settings section of the Job screen will become available.

The Channel can either be an existing channel, or the handle of a user, such as @jsmithers.
The message can be customized to include multiple parameters with text commentary.
Configuration
Create a Slack App
Navigate to the following URL and click the 'Create New App' button.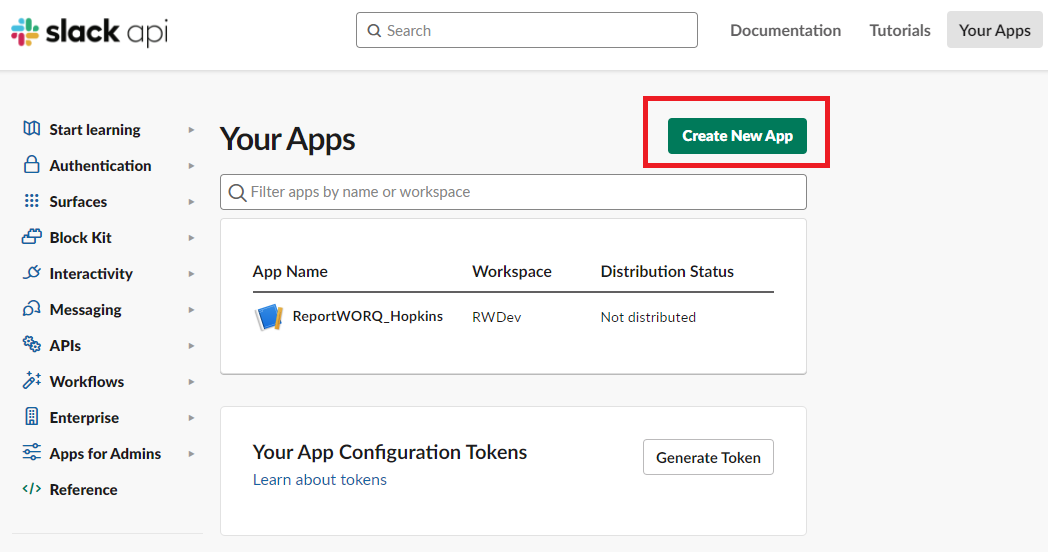 In the popup dialog, select the 'From Scratch' option.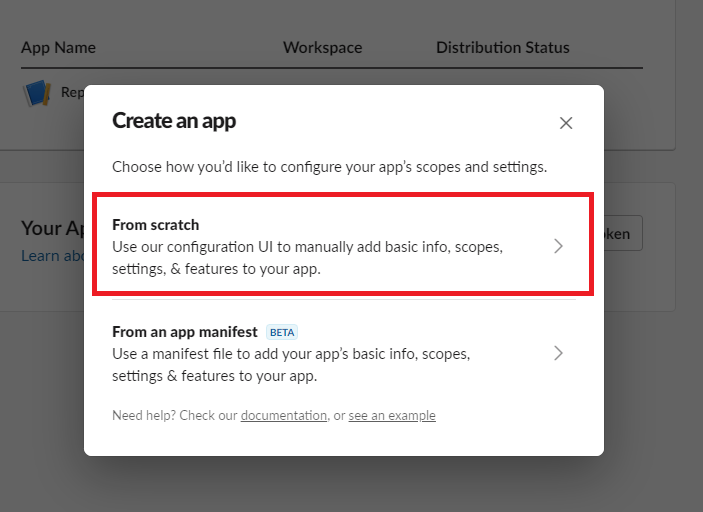 Provide a name for the new App and select the Slack Workspace for report distribution.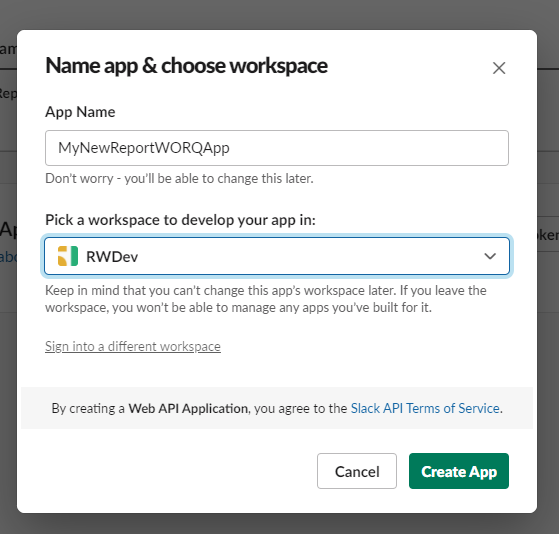 On the App Management screen, select the OAuth & Permissions section.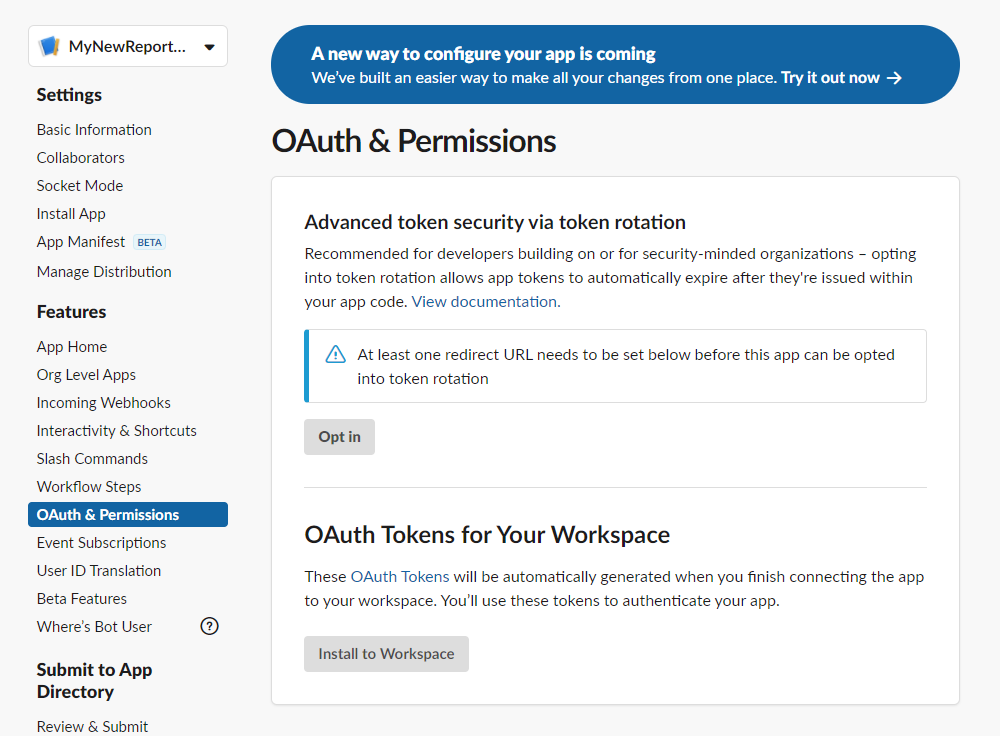 In the Bot Token Scopes section, click the 'Add an Oauth Scope' button.
Add the chat:write and files:write scopes.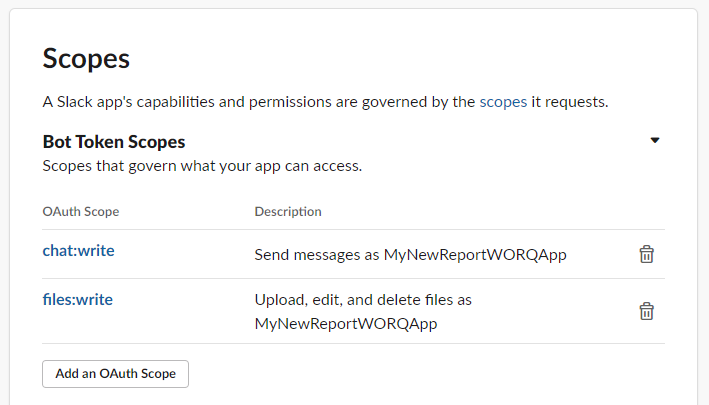 Scroll to the 'OAuth Tokens for Your Workspace' section and click 'Install to Workspace'
Click the 'Allow' button when prompted for permission.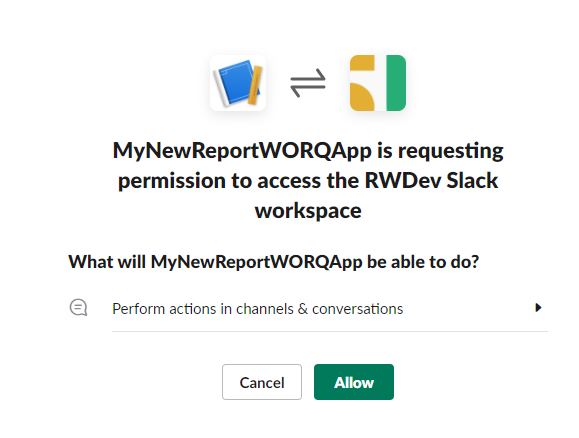 Copy the 'Bot User OAuth Token' from the 'OAuth & Permissions' screen.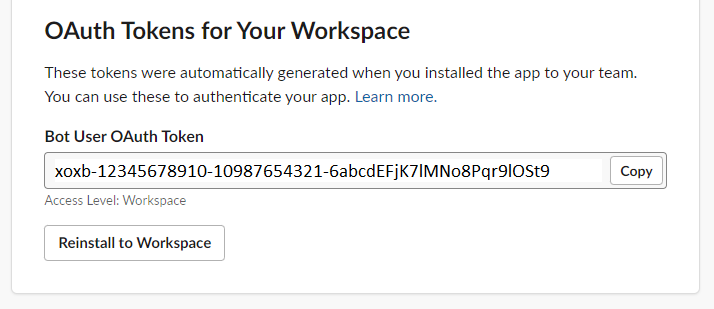 Workspace Installation
Open the related workspace where the OAuth token was installed and click on the Channel where reports should be distributed to.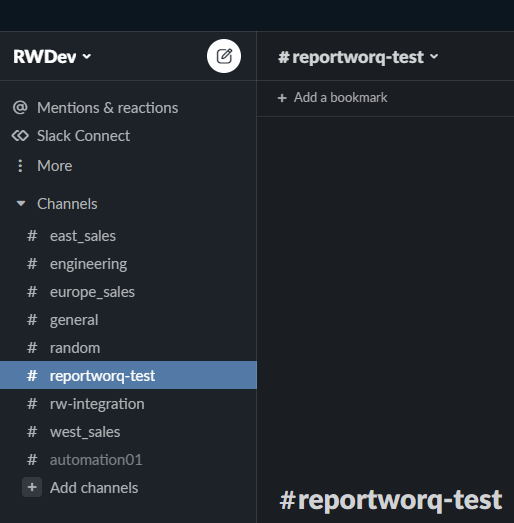 Open the Channel information screen by clicking the name of the Channel at the top of the screen and then select the Integrations tab.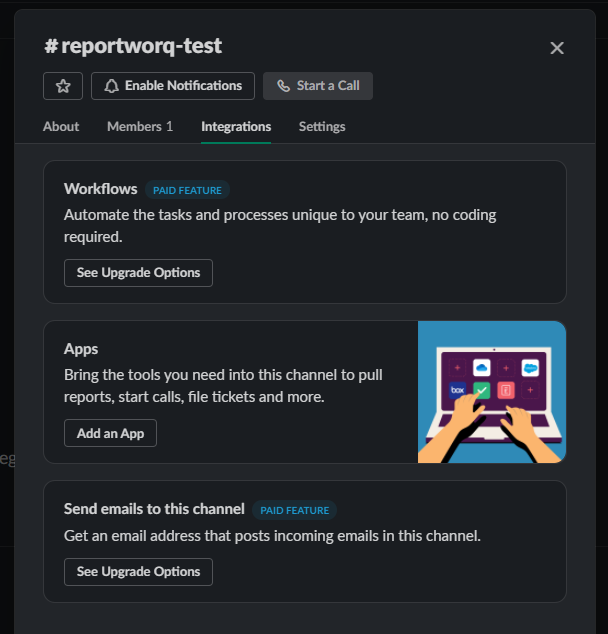 Click the 'Add an App' button to add the newly created App.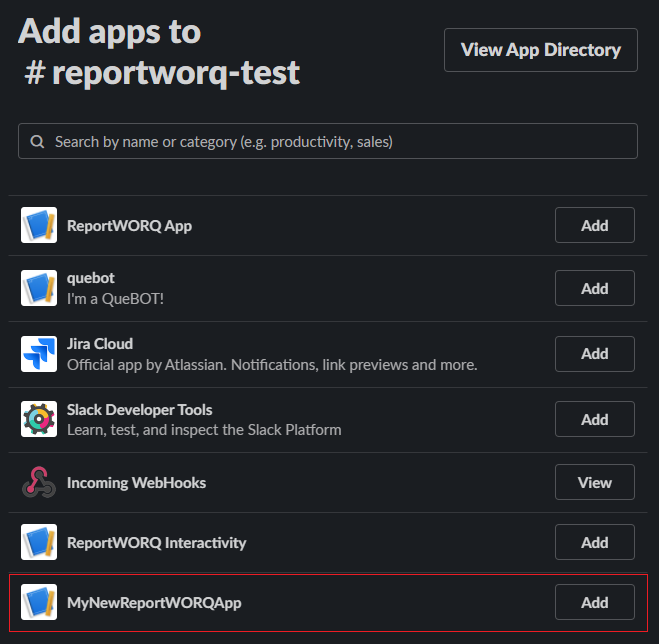 ReportWORQ Configuration
Open ReportWORQ and navigate to the Distribution tab in Settings.
Open the options for the Slack distributor and paste the OAuth Access Token.

Test the connection to verify that the setup was completed successfully.
Enter an existing Slack Channel to send a test message to.

After clicking the OK button, a success or failure message will be displayed in ReportWORQ. If successful, a test message will be sent to the specified ReportWORQ Channel.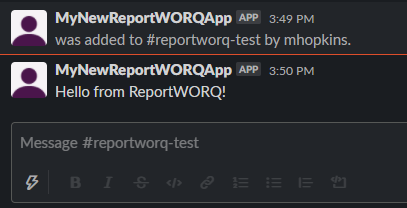 ---
Was this article helpful?
---
What's Next