Installation
16 Nov 2022

9 Minutes to read
Installation
Updated on 16 Nov 2022

9 Minutes to read
---
Overview
ReportWORQ runs as a standalone web application accessed through any modern web browser, such as Chrome, Edge, or Firefox. This installation guide covers everything needed to get the core product up and running, including:
Once the ReportWORQ installation and configuration have been completed, please see the Quick Start Guide for a walk-through of the steps used in creating ReportWORQ jobs.
Prerequisites
Software Downloads
Begin by downloading the latest ReportWORQ Installation package below. Please choose the current "ReportWORQ 5.0 Official Release" unless otherwise instructed. Preview releases include the very latest changes to the product, but only official releases are fully regression-tested.
System Requirements
The following are the recommended minimum system requirements needed to run ReportWORQ:
Firewall (optional):

Optionally open port 8300 to allow users to access ReportWORQ from a local browser.

SSL (optional):

Optionally the ReportWORQ server can be configured to operate under SSL if a certificate is provided.

Operating Systems:

Microsoft Windows Desktop: 8, 10, 11 or Microsoft Windows Server: 2012, 2012 R2, 2016, 2019, 2022
Please ensure critical Windows updates have been applied before installing ReportWORQ.

Processors:

4 core 2 gigahertz (GHz) or faster x64-bit processors

Memory:

16 gigabytes (GB) of installed RAM
More memory may be needed if you plan to work with large Excel reports.

Disk Space:

10 GB of free disk space
ReportWORQ uses disk space for its application files, settings repository, log files, and any temporary file storage needed while creating job output content (e.g., PDF and Excel files).

Display:

1280x720 or higher screen resolution is strongly recommended

Web Browser:

Chromium-based browsers including Google Chrome, Mozilla Firefox, and Microsoft Edge

Optional Software:

Microsoft Excel
Adobe Acrobat Reader, or equivalent PDF reader
License Key
Although not required for software installation, a separate ReportWORQ 5 license key is needed to fully activate and use the application. License keys from ReportWORQ 4.4 or prior are not compatible with ReportWORQ 5. Please contact our ReportWORQ Support Desk at support@reportworq.com to verify that your current ReportWORQ subscription includes ReportWORQ 5 and to request a key.
Architecture Diagrams
Select the image to expand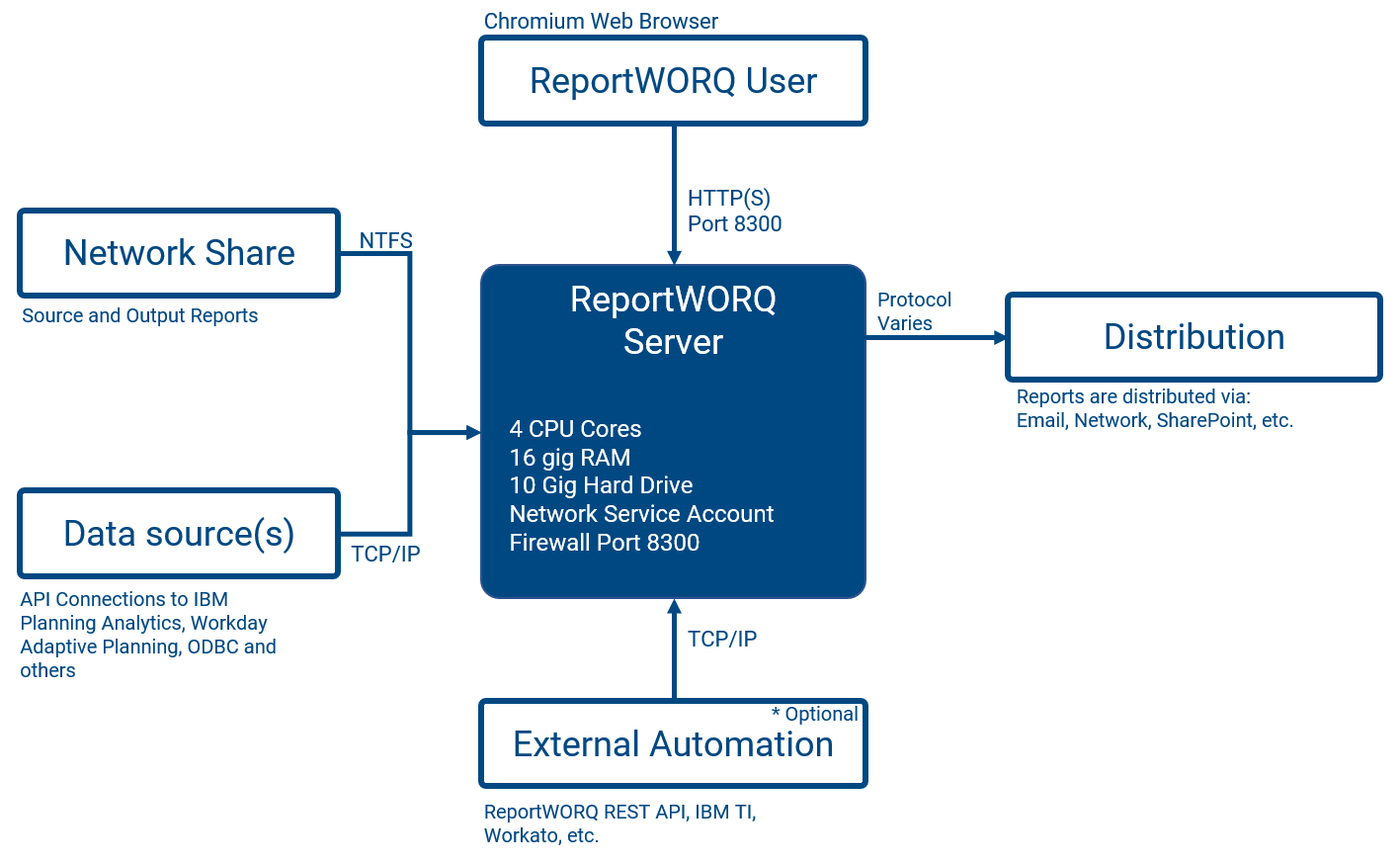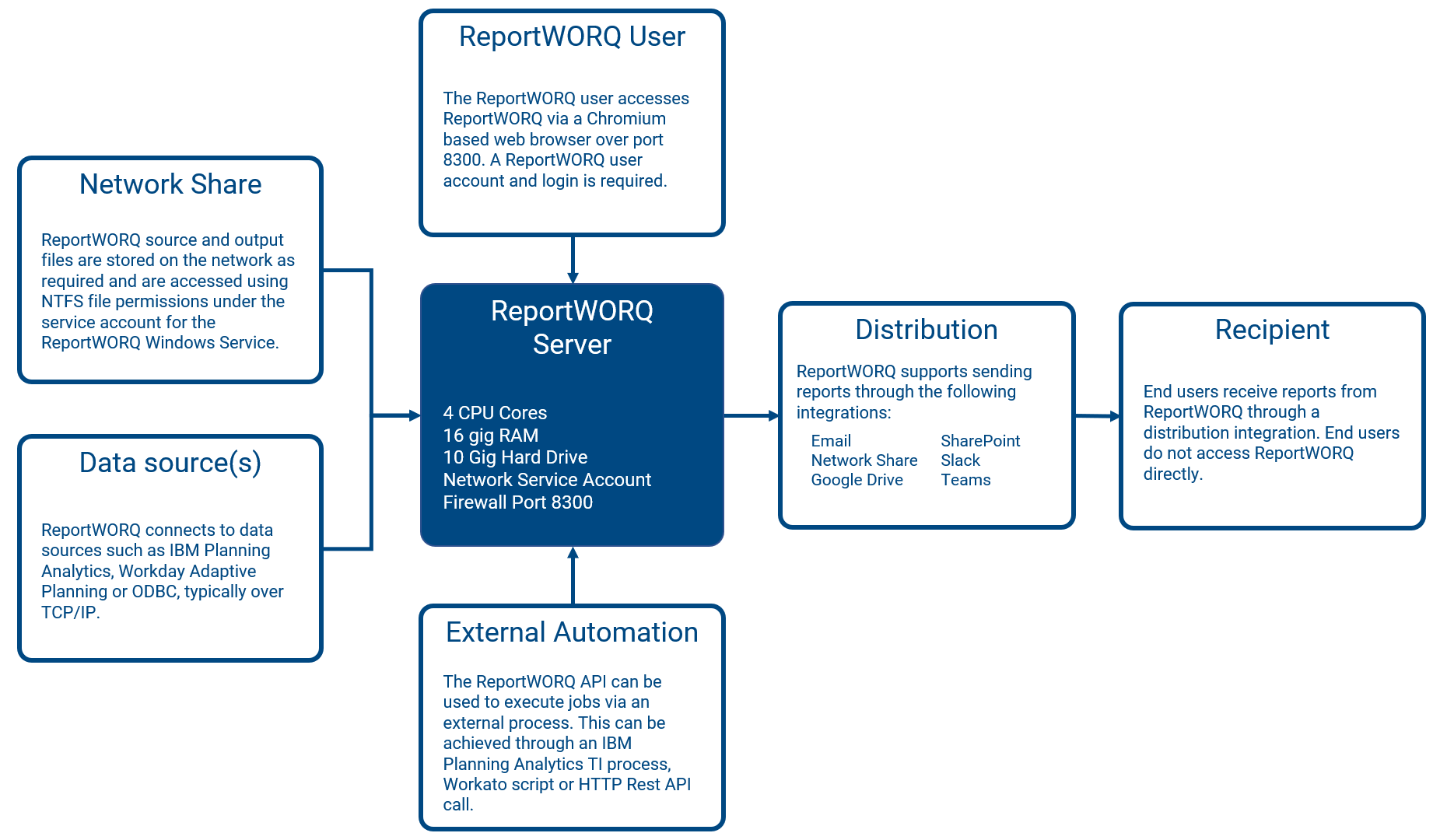 Software Installation
Local administrative permissions are required to install ReportWORQ. The installation process copies required files, then registers and starts an instance of the ReportWORQ Bootstrap Service, which hosts the ReportWORQ web application.
Installation Steps
Once you've satisfied all of the prerequisites, begin the installation process by double-clicking the downloaded ReportWORQ installation package. This will open the installer welcome screen: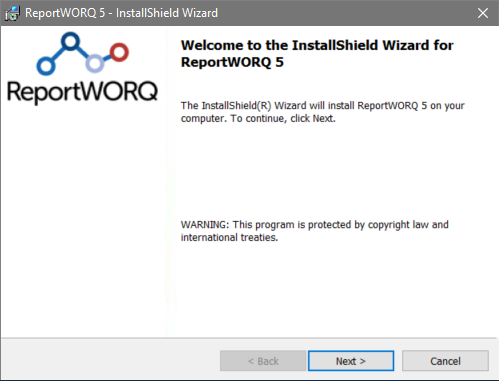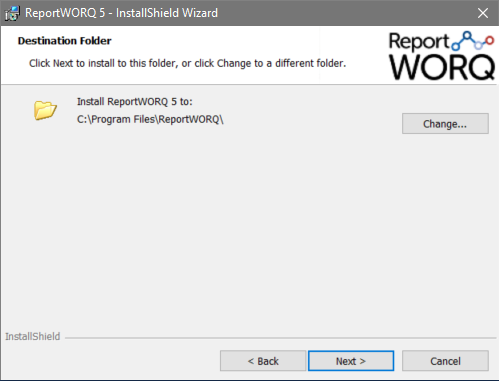 Click "Next >", accept the license agreement, then "Next >" again to optionally select a different install location:
Please follow these steps to verify that the installation was successful, once completed:
Launch a web browser
Navigate to the following default URL: http://localhost:8300/

From a remote machine: http://<ReportWORQ-machine-name>:8300/
Remote access to ReportWORQ is normally blocked by default firewall rules. A firewall rule to permit traffic from other user machines through ReportWORQ's configured TCP port may be required. ReportWORQ's default port is 8300.
Note that your URL will be different when installing over a previous ReportWORQ 5 installation that has enabled SSL and/or a different port number.

Verify that you see the ReportWORQ 5.0 login page:

Additional configuration steps may be required for first-time installations, like opening up a port in the firewall. Those steps are not required when upgrading over an existing installation, but note that there are special instructions when upgrading from a release prior to ReportWORQ 5.
First Time Configuration
First-time installations of ReportWORQ require several additional configuration steps to ensure the application is ready to use:
Enable remote access, if required, by opening firewall ports needed to allow traffic from outside the ReportWORQ server host
Login to ReportWORQ
The first time you access the ReportWORQ application from a web browser you will need to log in with the default credentials below:
ReportWORQ Default Credentials
The default username is admin with a blank password. You will be required to change the default password on the first login.
Review Service Settings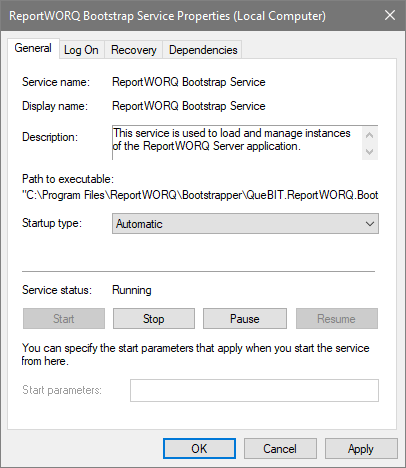 Review "General" and "Log On" settings for the ReportWORQ Bootstrap Service using the Services console in Windows Administrative Tools:
The service will be configured for "Manual" startup by default. Setting it to "Automatic" or "Automatic (Delayed Start)" will ensure that ReportWORQ starts up every time the host machine is rebooted.
If the ReportWORQ Server will need to read from or write to network locations then "Log On" settings must be updated to specify a domain account that the ReportWORQ instance will "Log on as" on startup.


Activate License
A message in the lower right status bar will indicate if ReportWORQ Server requires license activation:

Select the notification link to open license settings for ReportWORQ: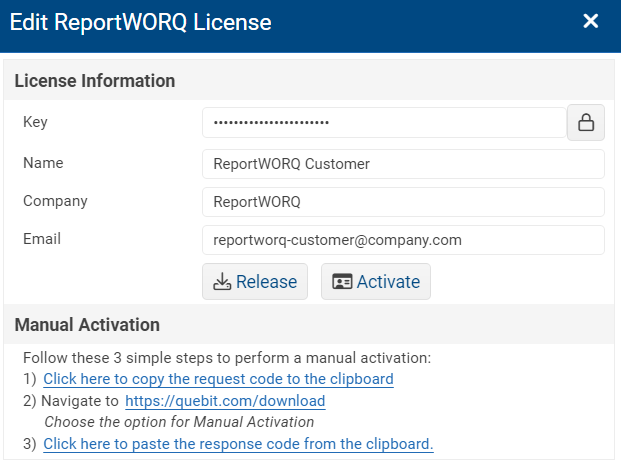 Enter the ReportWORQ server license key assigned to you along with your contact information. Choose the "Activate" button to initiate the activation request. ReportWORQ will attempt to use the server or browser's internet connection to perform the activation with the ReportWORQ Licensing Service. If this process fails then a manual activation will be required by following the listed steps under "Manual Activation". You will need access to a machine with internet access to perform step 2 of the manual license activation.
When uninstalling ReportWORQ the Release option on this screen can be used to deactivate the license.
ReportWORQ must be used in accordance with the license agreement that you agreed to upon installation, and only by users who are covered by that license agreement. Please consult that licensing agreement and contact us at support@reportworq.com if you have any technical or sales-related questions.
Review Application Settings
General application settings can be accessed by ReportWORQ administrators using this icon on the side menu bar: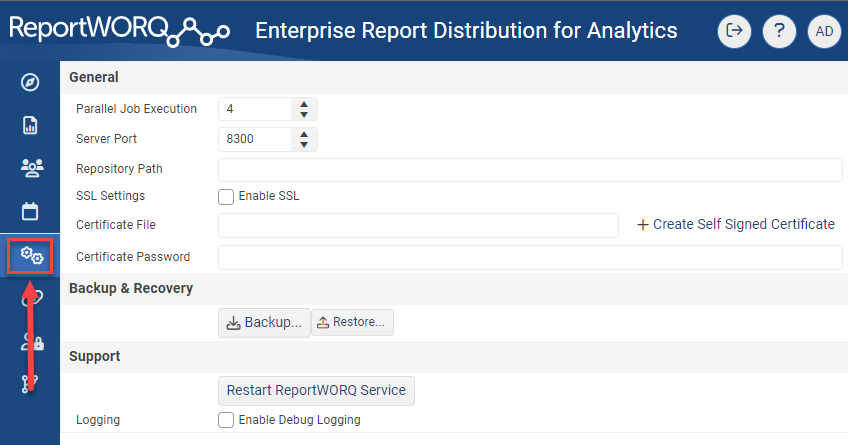 Settings for Server Port and Enable SSL (HTTPS) determine how users will access ReportWORQ from their web browser and should be reviewed after initial installation. These and other settings are covered in further detail >Application Settings page.
Upgrades
This section covers all of the supported upgrade options in ReportWORQ 5:
Upgrading from ReportWORQ 5
There are 2 ways to upgrade ReportWORQ 5 software:
First-time installs or major upgrades
Upgrades or patches to existing ReportWORQ 5 installations
Upgrades to a ReportWORQ 5 release will retain all of the settings and license information so long as the new installation occurs in the same directory where ReportWORQ was previously installed.
Full Installation Upgrades
The following steps are only required when installing to a new machine, or when the core ReportWORQ Boostrapper service is updated in a new release:
Take note of the current Startup settings (Automatic vs. Manual) and the "Logon As" account that the ReportWORQ Bootstrap Service is running before installing any new software.
Backup ReportWORQ data from the Settings screen.
Stop the ReportWORQ Bootstrap Service.
Install the new version of ReportWORQ (to the same installation directory if upgrading an existing installation).
Open the Windows Services console and update the ReportWORQ Bootstrap Service's settings to match those from step 2, if necessary.
Start the ReportWORQ Bootstrap Service.
Log in to ReportWORQ to verify the application is running properly.
Restore the Backup of ReportWORQ data.
In-Application Upgrades
Most ReportWORQ 5 upgrades can be performed without running a full ReportWORQ installation. The in-app upgrade console can be found by clicking the "Software Versions" icon and accessing the list of available versions while logged in as an administrator: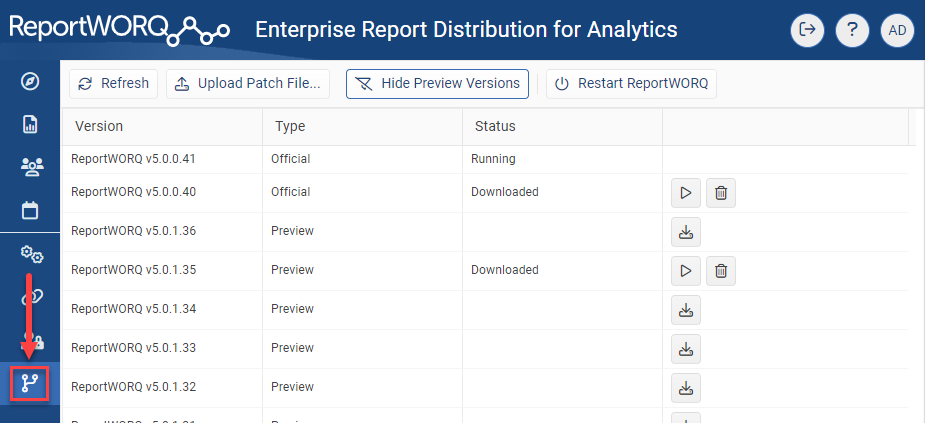 Official releases have been fully regression tested and are recommended unless otherwise instructed by support. You can hide or show any preview versions by toggling between the "Hide Preview Versions" and "Show Preview Versions" buttons.
The following buttons on each listed version can be used to manage upgrades and to select the version that you would like to run:
| Button | Action |
| --- | --- |
| | Download the upgrade package for this release. |
| | Select this version for an upgrade, stops the currently running version, and make the selected one the active running version. |
| | Delete a downloaded upgrade package. |
Manually Adding Upgrade Packages
If you do not have an internet connection you can alternatively download these upgrade packages from https://quebit.com/software-access/. Once downloaded, select "Upload Patch File..." to add the upgrade release to the list of available upgrade packages, using a network location.
Upgrading from ReportWORQ 4.4
ReportWORQ 5 can automatically convert ReportWORQ 4.4 application "data" (jobs, report definitions, recipients, etc...) to the latest-supported format.
The first step in the upgrade process from ReportWORQ 4.4 is to complete the Installation and Configuration of ReportWORQ 5 and to log in to the application as an administrator.
ReportWORQ 4.4 Upgrade Tip
ReportWORQ 4.4 can remain installed and running alongside ReportWORQ 5, providing flexibility and more time to validate a successful upgrade.
The next step in the upgrade process from ReportWORQ 4.4 is to configure the same data source and distributor settings in ReportWORQ 5 since they are not migrated as part of the upgrade. There is an additional requirement to set up Report Providers which are new to ReportWORQ 5. These steps are summarized as follows:
All of these settings are configurable from the Integrations side menu option in ReportWORQ
Click the New Integration... drop-down to set up a new integration: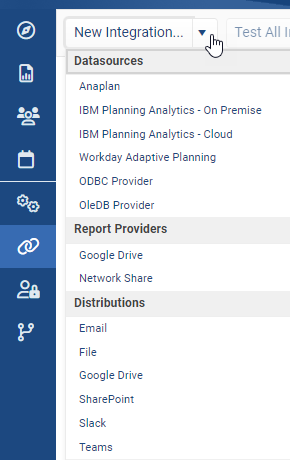 After configuring all of the prerequisite data source connections and distributors in ReportWORQ 5, you can restore a backup of your ReportWORQ 4.4 content. Once restored, we strongly recommend reviewing and testing all upgraded jobs, recipients, schedules, etc. to make sure all settings and connections are working as expected. Once all upgrade testing is complete you should shut down and uninstall ReportWORQ 4.4.
Upgrading from pre-4.4 Releases
ReportWORQ 5 does not support upgrades from versions before ReportWORQ 4.4. To upgrade from one of these releases you will first need to upgrade to ReportWORQ 4.4, and then upgrade to ReportWORQ 5 using the instructions documented here.
Configure Report Providers
ReportWORQ 5 has enhanced security standards that require you to explicitly enable file access and define the location(s) of source report locations using Report Providers, which can be any of the following:
At a minimum, one location for source reports should be created as part of the upgrade process.
In addition to adding one or more Report Providers, you will also need to enable the slider for File access under Distributors on the Integrations screen:


Configure Data sources
Any of the following Datasource Connections used by ReportWORQ reports & jobs need to be re-created in ReportWORQ 5:
Configure Distributors
Any of the following Distributors that are used by ReportWORQ jobs will need to be re-created in ReportWORQ 5:
Restore ReportWORQ 4.4 Backup
Restoring all of your ReportWORQ application content in ReportWORQ 4.4 is done by first using the "Export Support Packet..." option in the desktop Client's Settings to extract all ReportWORQ application content: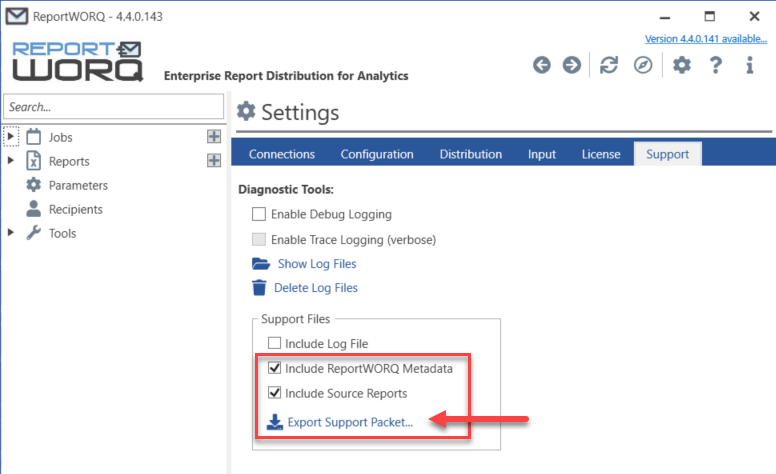 Required Export Support Pack Options
For ReportWORQ 5 to successfully restore your ReportWORQ 4.4 data you must select both of these export options:
Include ReportWORQ Metadata
Include Source Reports
Once you've exported the support packet, select that same exported file using ReportWORQ 5's Restore option in Settings. If you encounter any errors during the restore process please contact us: support@reportworq.com.
Verify Upgraded ReportWORQ Content
After restoring a 4.4 backup please review ReportWORQ content such as jobs, reports, and other settings. The most common updates that need to be made after the upgrade is to source reports that may need to be relinked if the upgrade process was not able to automatically match their original locations to the newly-defined Report Provider locations.
Software Uninstallation
To uninstall the ReportWORQ software open "Programs and Features" in the Microsoft Windows Control Panel, locate "ReportWORQ 5" and choose uninstall. If you intend to reinstall ReportWORQ then do not delete the files remaining in the installation directory. Otherwise, it is safe to delete any remaining files located in the installation directory.
---
Was this article helpful?
---
What's Next